Some of our past projects include:
No Internet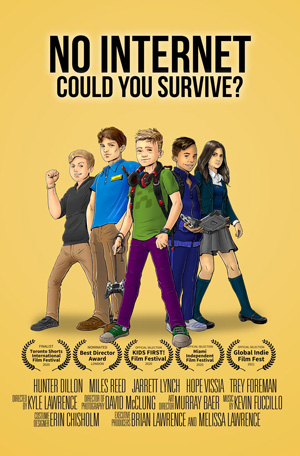 TV Pilot
Starring Hunter Dillon, Miles Reed, Jarrett Lynch, Hope Vissia, Trey Foreman. A group of teens must go an entire year without the internet when their small town shuts it off. They soon discover there's a clandestine organization behind it, and its up to them to save their town.
Directed by
Kyle Lawrence
Logan

Feature Film
Starring Leo Howard, Booboo Stewart, and Patrick Probst. 13-year-old Logan has a seemingly impossible dream to make a movie. When his last hope lets him down, he questions if it's really worth it.LOGAN is a moving and powerful story about friendship, bullying and never giving up on your dreams.
Directed by
Kyle Lawrence
The Scarf

Feature Film
Starring Laura Geluch, Mikaela Martens, and Julian LeBlanc. When two high school friends, Daniella and Krista, are assigned a school science project on UFOs, their project quickly becomes an obsession which threatens to tear apart their friendship, their families, and their lives.
Directed by
Kyle Lawrence
Completing Kaden

Television Series
Starring Jonathan Gray, Brady Lovesou, Matt Martin, Taylor Kirk, Steffani Bolhofner. Kaden, his faithful friend Shane, romantic interest Taylor, and crazy brother James are just trying to make it through high school. This fun-loving dramedy series shares the stories of their experiences and is sure to make you laugh, cry, and wanting more.

Directed by Various Directors
Real Bean Entertainment is involved in the production and distribution of feature films and television series. If you have a completed feature film, series or pilot and are seeking distribution, please contact Real Bean Entertainment for consideration. Real Bean Entertainment does NOT accept unsolicited materials and Real Bean Entertainment is currently NOT accepting script submissions.